Split is a cultural,urban and traffic centre of Dalmatia with road and sea connections to Dalmatia's numerous summer resorts and islands. Many of the town's historical buildings museums and galleries.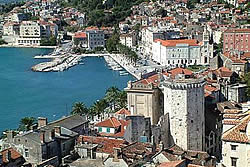 A city with a 1700-year old tradition,a variety of archeological,historical and cultural monuments, among which the well-known Palace of Diocletian (295. – 305. year),inscribed into the UNESCO World Heritage List, Certainly occupies a special position,and the warmth and offer of a modern Mediterranean City.
Split is a major sport centre,with many famous and populr sport clubs.The sports offer includes almost all types of water and other sports,from football,basketball and tennis to mountain climbing,water skiing and rowing.
split3Split has a variety of restaurants, offering domestic specialities. There are many beaches and public beaches in the city and its surroundings,the most popular beach of them is Bacvice,a sand beach almost in the very heart of the town.
Split is fameuos for its traditional Split Summer-Manifestations.Staged every summer in the historical settings of the city are music and drama performances of the Split Summer Festival.
Marmontova ulica i Ribarnica
Pjaca i Prokurative
Radunica i Firule
Sustipan